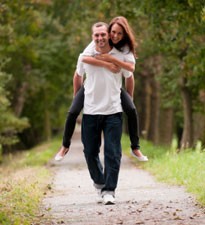 Actions don't always speak louder than words
You are completely right, you can love someone without having sex with them. Sex is an act that two people in love do together, but it should never be something you do to convince a guy you are serious about him.
Firstly, I would find out what makes him tick, what is important to him, does he like gifts, or your time, or like you to tell him verbally? Maybe he'd like a day out arranged somewhere, doing all the things that he likes, and then you could say to him
"sex is just one activity, I wanted to arrange a whole day of activities to show you just how much I love you"
. You could cook his favorite meal, give him a massage, take him to see his favorite sports team, or simply go for a starlit walk.
You can't buy love
I think low cost gifts, that take a lot of effort show someone you love them perhaps count more. Maybe a collage of photos of the two of you, a cd of songs that are meaningful to you, or small notes left in his coat and jeans pockets. Other suggestions could be making them breakfast in bed, giving them vouchers to redeem for hugs and kisses, maybe even write love letters as it is rare to get a letter in the post now that text messages can be sent. The list is endless, just use your imagination and think of what would be really special to them specifically!
You might find that all of these lead up to you wanting to sleep with him, but this should be when it feels natural and not like you have anything to prove by doing it.