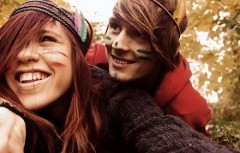 How to show my boyfriend I love him if we live apart?
As you have said that you have a long distance relationship, I have thought of a few ways of how to show your boyfriend that you love him.
1. You could take a picture of yourself in various places throughout the day, and save them up to send him and say that it can be like he was with you the whole day.
2. If you go to see him and then have to leave him for some time, whilst you're there you can leave notes all over his house or in his books so that every day he finds a different note. On each you could write a nice memory that you have of something you did together, or something you particularly love about him. Even if you don't live far away, this is a nice way to show your boyfriend you really love him.
3. You could get small gifts and compile them all in a box for when you do see him, just to show that you have been thinking of him the whole time you were apart. Then he can take these gifts back and remember how lovely you are every time he looks at them.
what can I do for my boyfriend to show him I love him when I see him every day?
If you see your boyfriend everyday, it might be difficult to think of ways to surprise him or convince him that you love him. Men do appreciate gifts and gestures as much as women, but maybe be cautious that you don't go over the top too much. Small gift that show you were listening to something he said or something he really likes, like a particular soccer team etc would be a nice little gift.
Anything that you feel you would like someone to do for you, would be perfectly acceptable for you to do for someone else, I would just suggest listening out for something he has always wanted to do, or maybe if there is a film he really likes, you could buy it on DVD, cook a lovely dinner and have a great movie night in together...all his favourite things in one evening. :)
Send to your loved one...and I Love You, Say it forward!