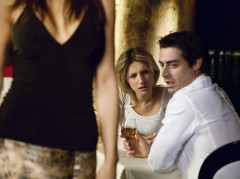 Do all men look at other women?
I believe looking is natural. I look at other women and I'm heterosexual. However, humans are monogamous, that is why we hurt when we see our lover looking at, flirting with, or kissing another person. I think that a man or woman should try not to look at others to consider their lover's feelings.
I think that most cultures exploit women as sex objects and many women exploit themselves by wearing revealing or tight clothing (especially the most insecure women). I'm not saying that all women should cover up like quakers, but they should maybe consider what image they are giving off when they wear certain things. If they don't want their men looking at other women they should not dress so other men will look at their bodies.
What about looking at pictures and porn, rather than real women?
Men who are married and watch porn or have sexual pictures of women around them (on calendars or on their phone, as mentioned earlier, I'm sorry that he is like that) do not respect women or their partner. If they did they would tone down the sexual bit and look after the ones they already have! I do not understand how some men and women can do the same sexual things over and over. Do you ever feel its getting redundant and perhaps not the best thing in life?
For women, who's men check out other women in all sense of the word, not just look, I think you should do the same thing and see what their reaction is.
Men, if you are constantly thinking nasty thought about other women, I would suggest not marrying and going to Vegas to live like Trump for the rest of your life. No women like that, not even the ones who pretend to be okay with it, they just say they are so that you think they're cool in the first place!
If you love someone you will sacrifice your sex drive for their feelings. Period.