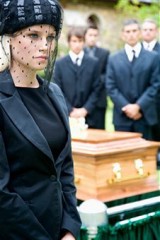 How to comfort someone who is grieving?
Losing someone is an extremely traumatic experience for anyone, whether it be someone they knew slightly or a loved one. But the loss of a loved one can be very hard on those left behind, especially if that loved one was a mother, father, sibling or spouse, although it is just as hard if it was any other loved one.
When speaking to someone who has lost a loved one, it is wise to remember to be careful in the way you say things, as you need to be comforting, but to be over the top can have a negative effect. This person will have continuously been told that people are sorry for their loss and even if it was an older person, there is no consolation for their loss.
Though in truth, the way you address someone who has lost a loved one, is different for each individual and depends on their personality. Whereas one person might prefer to not discuss the issue in an attempt to move on quickly, another may like to voice their concerns and talk through their feelings in a way to deal with them. Everyone is different.
So, What is the best thing to say to someone who lost a loved one?
It is also good to remember that the loss of a loved one may make individuals feel angry and they may take this out on the people around them by shouting and exhibiting other such behaviours. There is no time limit on how long someone will grieve for and it is likely to be a long a difficult process, and any large events such as weddings, Thanksgiving and Birthdays are likely to be particularly painful. It is very hard for most people to talk to friends about their situation, Because they may not feel safe telling you or even wanting to talk about it. So, please be patient with them and if you can take what they say with a pinch of salt, as it is likely they won't mean it. Over time, the pain wont necessarily go away, but people learn to deal with the loss more efficiently.