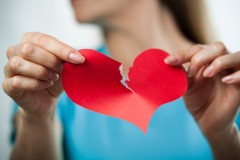 Common feelings after a break up
After a break-up, it is likely that it will take you both some time to move on. Feelings don't just stop overnight, and it is likely that you both feel a degree of confusion.
Of course, it can depend on how long you have been dating for, but many people say that it takes a month for every year you were together for the feelings to subside.
Many of the things involved with being in a relationship become habits, and many people find that these are what they miss the most after a separation. However, with this can come the freedom of doing things that you enjoy again, or getting in touch with old friends with whom you had lost touch.
But how do I know if my ex still has feelings for me?

I assume you're asking this question as you still have feelings for your ex yourself. If your break-up is quite recent, the answer is probably that he or she does still have feelings for you - but that doesn't mean that they are necessarily the sort of feelings that are conducive to getting back together.
It might just be that your ex still feels physically-attracted to you, and many people find that this can be the hardest part of the relationship to get over. Normally, people only truly move on when one of them meets someone else and starts a new physical relationship.
The main way to tell if your ex is still thinking about you, is if he or she finds ways to talk to you or text you, maybe about something totally irrelevant, just to have some communication with you. This should be treated as them 'keeping their foot in the door', which you might want to go along with, if there is any chance of you getting back together.
Other signs that your ex has feelings for you could be that he or she turns up in places where you always go, or starts making friends with your friends in a bid to know what you're doing and whether you have someone new in your life yet.
What does it mean if my ex still has feelings for me?
It means that they haven't totally moved on, but it might not mean that they want to start up the relationship again. Sometimes, people love each other but, because of other circumstances (like distance, or family commitments) they break up, and then the feelings definitely don't go straight away.
Because of the emotions involved, some people find that a clear break-up with no communication is much simpler and cleaner, and causes less pain in the long-term.
The majority of people would say that it is virtually impossible to stay friends with your ex, especially if both of you still have feelings for each other, or doubts about whether you should have broken up in the first place.