How would you feel if someone were to purposely make you feel guilty - even if you deserved it?
Guilt is an emotion that can sometimes escalate into more serious emotions and states, including depression. You should not toy with a person's feelings like that  - it's childish, immature and just wrong. If you have an unresolved issue with somebody then talk to them about it.
Deliberately making somebody feel guilty is likely to lose you a lot of respect and friends. It's also likely that the plan to make someone feel guilty will backfire on you - people will begin to pity your target, and you won't look like a nice person at all.
If you're really set on the idea of making someone feel bad - even though it's a childish and pointless thing to do - here's one way of doing it: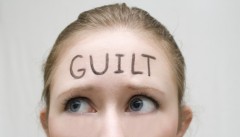 Step 1 -  Gather the evidence of guilt.
The facts are the best way to make somebody feel guilty. Perhaps they are selfish and need to be reminded. No matter what the issue is, you cannot make them feel guilty until you have gathered all the pertinent facts.
Step 2 - Remind them of what they did passive-aggressively.
Using a nice tone, coyly and randomly bring up the subject of their guilt. Never use an aggressive tone, never implicate them - just keep implying guilt and let their subconscious do the rest of the work.
Step 3 - Bring up the subject often to invoke feeling and response
Any time you get a chance to remind the person of their dubious deed, do so. The more they are reminded of what they have done, the more guilty that they will feel.
Step 4 - Be passive-aggressive in your dealings to ensure the feeling of guilt prevails.
Anytime they bring up the subject, or try to deal with it and put it aside, casually acknowledge what they are talking about, that they did it, it was their fault and then immediately change the subject without giving them the opportunity to make amends.