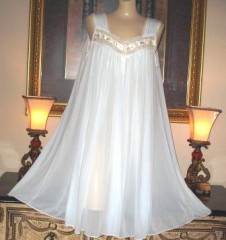 Nighties, whether designed to be worn by men or women, have been a first preference for all looking for comfort wear.  All across the world, nighties have been designed to be worn by women whereas pajamas, trousers and shirts have been designed for men's nightwear.  
However, a handful of men all across the world have a passion to wear female nighties rather than male's nightwear. Reason for this liking amongst men is the fact that the female wear is more comfortable and relaxing. 
On the other hand, not all men, and a majority of females, do not like the idea of wearing nighties. Rather they prefer a pajama or other men's nightwear as nighties is not a socially acceptable phenomenon for men.
Therefore,   a lot of people have a query of whether men can wear these nighties or not. One of the most commonly asked questions by many wives from all across the globe, and which can be found on almost every blog is whether their husbands can wear nighties or not? 
Since my grandfather's era men have stopped buying 'Nightshirts' which were a long soft shirt-like gown. My son wears a long oversized 'T-shirt' (or nothing). Since women wear pajamas there is no right or wrong answer. The answer to this query will depend upon your own perception and your will to go against rather meaningles old fashioned fashion statements. Realy, who cares in the dark at night.
Every individual has the freedom and the right to do anything and everything he wants to do.  However, a few people tend to follow these and do whatever they like, whereas some tend to follow the norms set by obscure people in the fashion industry and our nervous 'Peer Pressure' society and fail to break or deviate from those values.
Wearing of nighties by males is not socially acceptable but still a small minority tend to wear it. Furthermore, many females consider males wearing nighties at night sexier as compared to their looks in the men's night wear.
The only reason for discouraging men from wearing nighties at night is the fact that it has been associated with females and has a distinct 'Dress shape' to it. 
All these associations have been socially developed, and take great courage from men to be revolutionized.
If females can wear denims and shirts in order to dress like males and still have a feminist look, than why can't males wear a plain simple cotton nighty and still look masculine.