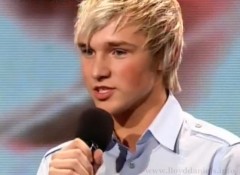 He's bisexual.
It isn't a big deal, so many guys and girls out there in the music industry are, but have just not "come out" like Duncan James did, or been "forced out" like Stephen Gately was.
It is true that Simon Cowell forced an injunction on the Daily Star and Mirror to not spread the stories that they were about to print, as it came out whilst Lloyd and Danyl were still in the running to be crowned winner.
Lloyd and Lucie are living together but are not dating. I went to Lucie's 18th birthday party at Cafe de Paris and I met her boyfriend - it wasn't Lloyd.
Lloyd had a "thing" with Danyl. However far this went, I don't know and not a lot of people know. Even google suggests it so a lot of people are interested clearly. But I asked Lloyd (who was pretty drunk) at Lucie's 18th in Picadilly Circus and he just laughed and went "sssh". Make of it what you will.