Of course you are not crazy, please don't worry. You are a perfectly normal girl, with normal hormones and things are working just fine.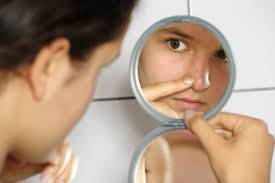 When you have your first period, it doesn't necessarily mean that you will have one every month for the rest of your life - things have to settle down.
The start of your period and the hair that you have is the beginning of puberty, but you have a long way to go yet, and your body is going to go through a lot of changes.
It is normal not to have regular periods at your age and in fact, this exact thing happened to my friend's daughter. My friend mentioned it to the doctor, and he wasn't concerned at all because he knows that puberty works like that sometimes.
However, as you are worried please get a second opinion, ask your mom to take you to see a doctor. If you don't feel comfortable doing that, maybe confide in the school nurse or a teacher.
It's always best to get things checked, but honestly, I truly believe that things will balance out naturally over the next few years, and all will be well.