There are lots of different types of creams on the market that advertise that they help with the reduction of diaper rash.
In order to try to combat diaper rash, we need to understand what causes it -
prolonged contact with urine or stools

sensitive skin
rubbing or chafing
soap, detergent or bubble bath
baby wipes
diarrhoea or other illness
The rash may have red patches, or the whole of the bum could be red. The skin may look sore and feel hot to touch, and there may also be spots, pimples or blisters.
The best way to deal with diaper rash is to try to prevent it from happening in the first place -
change a soiled diaper as soon as possible. Young babies may require 10-12 diaper changes a day

clean the whole nappy area thoroughly
let your child have some 'bum out' time. Lay them on a towel and take off their nappy for as long and as often as possible. The fresh air will help to heal your child's bum.

use a barrier cream, such as zinc and castor oil
If your child develops a persistent bright red, moist rash with white or red pimples, which spread to the folds of the skin, they may have a thrush infection. So take them to your doctor.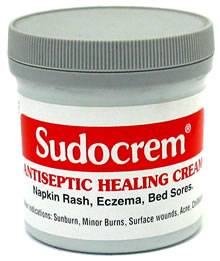 Like I said before, there are lots of creams out there to help diaper rash, but personally I have found that Sudocrem has been particularly helpful and has reduced redness quite quickly.
However, there are also -
Metanium

Vaseline

Drapoline
Bepanthen
Chamomile wipes
These are all good creams and can be purchased from any good pharmacies.
I would suggest just letting them have time with no nappy on, as you will be surprised how much that will help.